Weld
General information
Physical information
Government
| | |
| --- | --- |
| Form of government | Wardenship |
Chronological information
Weld
is a round walled city located in the east of
Dorne
. It was founded by the sorcerer 
Eldannen
 when he escaped his brother 
Annoltis
' tyranny with a group of
Fellan
.
Contruction of the Wall
Edit
Skimmer attack
Edit
Call for Volunteers
Edit
Government
Edit
Weld is led and run by a Warden since its founding by Eldannen. Passed down generation by generation, the position of the Warden was strictly male-only.
The Wall is Weld's main defence and was built using the rock of the mountain Weld was built in. It has been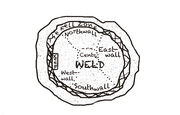 reinnforced for centuries by the use of clay dug up from trenches. Workers are employed to strengthen and look for any weak spots. Contstant adding and re-enforcing of the Wall has slowly increased the width, forcing houses to be destroyed to make way for trenches.
Divisions
Edit
Weld is divided into five sections: Northwall, Eastwall, Southwall, Westwall and a circular section called the centre.
Locations
Edit
The Keep, located within Westwall
Appearances
Edit
The Three Doors Edit
References
Edit
Ad blocker interference detected!
Wikia is a free-to-use site that makes money from advertising. We have a modified experience for viewers using ad blockers

Wikia is not accessible if you've made further modifications. Remove the custom ad blocker rule(s) and the page will load as expected.