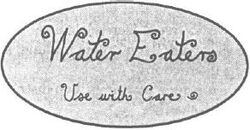 Water Eaters
General information
| | |
| --- | --- |
| Purpose | To remove water from an environment to create land |
Chronological information
Water Eaters are an item sold in Tom's shop that, when tossed into the water, swell into massive, wobbling, gelatine-like walls that block water from entering, while sucking up the water between them, creating dry land.[1]
City of the RatsEdit
Tom gives Lief, Barda, and Jasmine a tin of water eaters as their free gift for shopping at his store. The companions use them to cross the Broad River in order to reach the City of the Rats.[1]
Instructions
Edit
The following instructions were found on the back of the box:
Water Eaters
Use with Care
Instructions:
Scatter Water Eaters sparingly wherever land is required.
WARNING!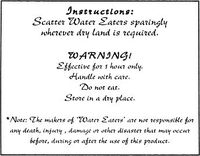 Effective for one hour only.
Handle with care.
Do not eat.
Store in dry place
*Note: The makers of "Water Eaters" are not responsible for any death, injuries, damages or other disasters that may occur before, during or after the use of this product.[1]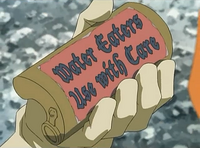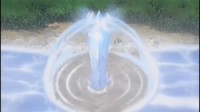 In the anime, the water eaters transform into massive crystalline towers that suck the water into their tips and bases to create land.
References
Edit
Ad blocker interference detected!
Wikia is a free-to-use site that makes money from advertising. We have a modified experience for viewers using ad blockers

Wikia is not accessible if you've made further modifications. Remove the custom ad blocker rule(s) and the page will load as expected.