That's not the Archer of Azzure!

The term "Warden (character)" has not been confirmed by official sources and is merely conjecture.
The Warden
Biographical information
| | |
| --- | --- |
| Age | Unknown, presumably fairly old |
Physical description
Personal information
Allies

Keep Soldiers
Servants

Enemies

Tallus
Rye
Sholto
Dirk
Joliffe
Crell

Chronological and political information
| | |
| --- | --- |
| Position | Ruling Warden of Weld |
Affiliation

The Keep
Weld

The unnamed "
Warden"
was the ruling 
Warden
, and therefore leader, of 
Weld
during the time of
Farr's
attempt to rid
Dorne
of the Fellan.
[1]
 He is also
Sonia's
father. 
The Golden Door Edit
The Silver Door Edit
The Third Door Edit
Physical appearance
Edit
The Warden is described as being plump, with stubby fingers and sagging cheeks. His eyes are described as being pale and watery blue. His hair is described as being red, but thin and scanty. When the Warden first appears he is wearing the traditional red robes of the Warden, fitted with several skirts. He has also appeared wearing a plumed hat with feathers, which are often described as being stained with ink.
The Warden is said to look very different from an official portrait that hangs on a wall in Weld's schoolhouse. In the portrait he is slimmer, his chin looks firmer, his hair is browner and thicker, and his eyes look bluer.
Personality
Edit
The Warden is selfish and cowardly. Instead of helping the people of Weld by attempting to find a permanent end to the skimmer slays he stays in the Keep of Weld, choosing to protect only himself and is too afraid to venture out. He loves tradition, and preaches to the people to stay safe from skimmers by sealing their windows and doors and sprinkling salt to ward against them. When faced with possible new solutions about the skimmers, the Warden rejects them and refuses to believe that his own ways and beliefs are wrong.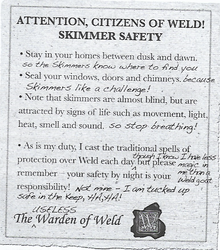 The Warden is cruel and deceitful as well, seen in his treatment of his only daughter, Sonia, who he neglects and views with disgust and horror, and the fact that he lured the young men of Weld through the Doors, knowing they would not be able to return to Weld through them, to protect his own position as Warden of Weld.  
Abilities
Edit
Relationships
Edit
Relatives
Edit
Appearances
Edit
The Three DoorsEdit
References
Edit
Ad blocker interference detected!
Wikia is a free-to-use site that makes money from advertising. We have a modified experience for viewers using ad blockers

Wikia is not accessible if you've made further modifications. Remove the custom ad blocker rule(s) and the page will load as expected.