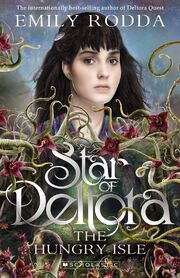 Today I discovered this higher resolution version of the cover for The Hungry Isle, in the September 2016 Trade Parade catalogue from Scholastic, released at Issu.com, seemingly before Scholastic did it. I don't believe they have it up even now. To see the catalogue go to this link, https://issuu.com/scholastic_australia/docs/september_trade_parade
As you will notice, the cover art seems a bit brighter and fader in color in the catalogue, but for some reason, everytime I try to upload it to the wiki or put it in some image editor online, like the one on Pixlr.com (haven't tried one on my PC) the color turns darker. Does anyone know the reason for this, and can you possibly fix it for me, unless this is actually the way the original file was meant to be seen and there's just something wrong with my PC? I fixed it.
Ad blocker interference detected!
Wikia is a free-to-use site that makes money from advertising. We have a modified experience for viewers using ad blockers

Wikia is not accessible if you've made further modifications. Remove the custom ad blocker rule(s) and the page will load as expected.