Adin knew that he was the one who must fill the medallions in the belt.

Topaz dragon is in need of more information! Topaz dragon is lacking general information
| | |
| --- | --- |
| | There is no denying that Deltora can be dangerous for the unwary or ill-informed! |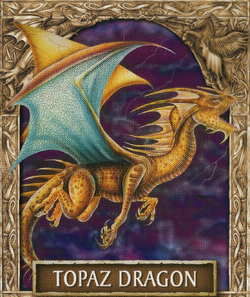 Topaz dragon
General information
| | |
| --- | --- |
| Attributes | Reliable, thoughtful, determined, serious, spiritual |
Chronological information
The
Topaz dragon
is a
species
of
dragon
native to
Topaz territory
. They are critically endangered and are extremely wise and thoughtful. The last remaining Topaz dragon,
Fidelis
, is the only Topaz dragon to have survived the
Ak-Baba
attacks during the reign of
King Lucan
.
[1]
Told in the Tenna Birdsong Tale, The Girl with the Golden Hair, a Topaz dragon took captive a girl with wavy, golden blonde hair. To save her lover, she gave the dragon her hair.[2] During the reign of King Lucan, Topaz dragons were purposely hunted by the Ak-Baba and few survived.[1]
After Doran journeyed throughout Deltora, the Topaz dragons were almost wiped out. He urged Fidelis to go into an enchanted sleep and it was not until Lief journeyed to the Os-Mine Hills and awoke him from his lair.[3]
Behaviour
Edit
Topaz dragons generally eat Granous, Dragon Lizard, Flesh Pythons, fish, and, rarely, domestic animals.[1]
Topaz dragons live territoriality in Topaz territory. Before they were endangered, they could be found in caves and on top of mountains, particularly in the Os-Mine Hills since it gave them access to their primary food source, Granous. They also made frequent trips to the Forests of Silence to hunt.[1]
A Topaz dragon was mentioned in the tale, The Girl with the Golden Hair.
The Topaz dragon, Fidelis, was the first to be woken up by Lief.
References
Edit
Ad blocker interference detected!
Wikia is a free-to-use site that makes money from advertising. We have a modified experience for viewers using ad blockers

Wikia is not accessible if you've made further modifications. Remove the custom ad blocker rule(s) and the page will load as expected.