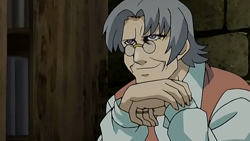 Tom's Curious Shop
トムのふしぎな店
Information
| | |
| --- | --- |
| Romaji | Tomu no fushigi na mise |
Episode guide
Tom's Curious Shop is the eighth episode of the Deltora Quest anime.
American synopsis
Edit
Lief and his friends move on toward the next destination after defeating the Thaegan Sorceress, but Lief realises they are being followed when the belt signals danger and Jasmine gets a bad feeling.
Lief, Barda and Jasmine, along with Filli and Kree travel west towards their next destination. The City of the Rats.
Character debuts
Edit
Characters
Edit
This is the first episode that all of Thaegan's children appear in.
Muddlets first appear.
In this episode Thaegan's children fight over who will eat Lief and co and most manage to get injured except in the book all except Ichabod are killed.
The Japanese title translates to "Tom's Curious Shop" - the same as the translation used in the English dub.
Ad blocker interference detected!
Wikia is a free-to-use site that makes money from advertising. We have a modified experience for viewers using ad blockers

Wikia is not accessible if you've made further modifications. Remove the custom ad blocker rule(s) and the page will load as expected.