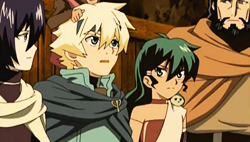 The Pirate's Feast
盗賊たちのうたげ
Information
| | |
| --- | --- |
| Romaji | Tōzokutachi no utage |
Episode guide
The Pirate's Feast is the thirty-fourth episode of Deltora Quest.
In the wake of the pirate attack, Lief, Barda, and Jasmine make their way to the Maze of the Beast.
Characters
Edit
Character debuts
Edit
The Japanese title translates to "The Pirate's Feast" - the same translation used in the English dub.
Ad blocker interference detected!
Wikia is a free-to-use site that makes money from advertising. We have a modified experience for viewers using ad blockers

Wikia is not accessible if you've made further modifications. Remove the custom ad blocker rule(s) and the page will load as expected.