Adin knew that he was the one who must fill the medallions in the belt.

The Champion Inn is in need of more information! The Champion Inn is lacking A complete proper synopsis and location infobox.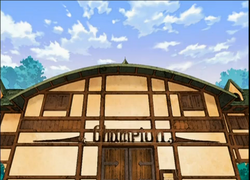 The Champion Inn
General information
Physical information
Government
Chronological information
The Champion Inn is the most popular, finest, and expensive inn at Rithmere. It is the official Games inn of the Rithmere Games and only available to competitors. Initially all contestants can stay at the inn whether they have money to pay or not. Contestants only pay what they can afford according to Mother Brightly, the hostess. This is most likely the case to attract as many fighters as possible.[1]
History
The Champion Inn was originally owned by Fardeep. After the Shadow Lord took over Deltora, it used the Rithmere Games as a way to recruit people to fight in the Shadow Arena.
The Shifting Sands
Lief, Barda and Jasmine arrived at the Champion Inn after learning about the Rithmere Games. They went inside the inn and encountered the hostess, Mother Brightly. She helped the companions to become official competitors in the Games.[1]
Valley of the Lost
Rooms
Front Desk: for registery
Champion Store: for very expensive purchases
Sleeping Quarters
Long Hall: for eating
Weapons Storage
Medical Examination Room: checking the fitness of a contestant
Underground Tunnel: leads to a trap
Hideout: Also connected to the underground tunnel
House Rules
Only for competitors
No weapons
No fighting
Trivia
References