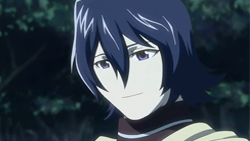 The Boy from the Resistance
レジスタンスの少年
Information
| | |
| --- | --- |
| Romaji | Rejisutansu no shōnen |
Episode guide
The Boy from the Resistance is the nineteenth episode of Deltora Quest.
The Grey Guards attack Lief and his friends as they journey to the Shifting Sands, but help comes from an unexpected source.
Lief, Barda, and Jasmine are captured, but Doom and Dain saved them and took them to a secret hiding place. However, they do not trust each other and Jasmine and Doom have a strong barrier between them. The companions refused to go to the resistance stronghold, instead setting out to the Shifting Sands. They find a strange inscription and figure out, 'the end lies within the rocky walls,' means the cliff faces. They climb to the top and Lief hears a mysterious buzzing sound that no one else seemed to be able to hear.
Characters
Edit
The Japanese title translates to "Boy of the Resistance".
Ad blocker interference detected!
Wikia is a free-to-use site that makes money from advertising. We have a modified experience for viewers using ad blockers

Wikia is not accessible if you've made further modifications. Remove the custom ad blocker rule(s) and the page will load as expected.