Adin knew that he was the one who must fill the medallions in the belt.

Swamplands slug is in need of more information! Swamplands slug is lacking a detailed History with events from Two Moons.
That's not the Archer of Azzure!

The term "Swamplands slug" has not been confirmed by official sources and is merely conjecture.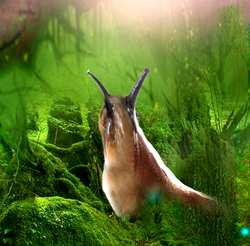 Swamplands slug
General information
Uses

Beast of burden
Transportation
Chronological information
The swamplands slug, called imbuck in the turtle people's language, is a slug-like beast of burden used by turtle people as a means of transport throughout the swamplands. They often pull sleds.[1]
History
Two Moons
The swamp-dweller boy Stassi used a swamplands slug called Zrath to move his sled.[1]
Habitat
Anatomy
The swamplands slug look like a vast, grey, glistening slug, except it has two great black-spotted humps that rise in the middle of their back. The black spots its humps are able to darken and spread. Their eyestalks are as thick as a human's arm. Its bloated body is rippled. They excrete a silverly slime.[1]
Behaviour
Diet
Trivia
References
See also