Adin knew that he was the one who must fill the medallions in the belt.

Sky sphere is in need of more information! Sky sphere is lacking Information about the sky sphere's role in Two Moons.
Ava, whose symbol was the eye, was blind!

Sky sphere is in need of a few images! Perhaps you can help by uploading a picture of the trading receipt for the Sky Sphere, found in Two Moons.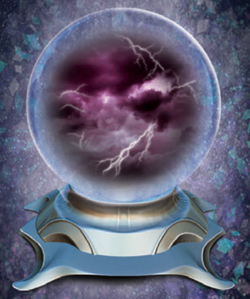 Sky sphere
General information
| | |
| --- | --- |
| Created by | Unnamed Fellan |
| | |
| --- | --- |
| Purpose | To show swirling, moving colours on the inside resembling a sky |
Chronological information
The sky sphere is a magical glass ball. Swirling, moving colours resembling a sky is visible inside the orb. The sky sphere is a glass ball set into a metallic silver stand.[1]
The sky sphere was created on Dorne through magic, presumably by a Fellan.
Shadows of the Master Edit
Dare Larsett found the sky sphere covered in dust in a dark corner of a tiny, out-of-the-way shop in Dorne. The sphere became Larsett's most prized possession and he always kept it on his writing desk. When Larsett sought out the Staff of Tier and woke the Isle of Tier, Larsett's family had to go into hiding and was forced to sell the sky sphere with everything he owned.[1]
Two Moons Edit
References
Edit
Ad blocker interference detected!
Wikia is a free-to-use site that makes money from advertising. We have a modified experience for viewers using ad blockers

Wikia is not accessible if you've made further modifications. Remove the custom ad blocker rule(s) and the page will load as expected.