Sholto
Biographical information
| | |
| --- | --- |
| Alternative name(s) | Vrett (while in disguise at the factory) |
Physical description
Personal information
Chronological and political information
| | |
| --- | --- |
| Profession | Healer apprentice |
| | |
| --- | --- |
| Position | Tallus the healer's apprentice Volunteer |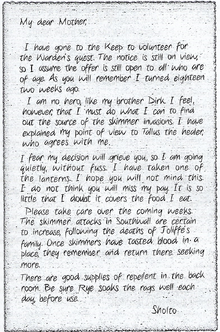 Sholto is the son of Kaz and Lisbeth and the brother of Rye and Dirk. He worked for Tallus, Southwall's healer as an apprentice.
The Golden Door Edit
The Silver Door Edit
When Sholto becomes of age, he attempts the Silver door in order to find the source of the Skimmers.
The Third Door Edit
Physical appearance
Edit
Sholto has dark skin, possibly from spending time out in the sun. He is thin and lean.
Personality
Edit
He is described as thin, cautious, and clever.
Sholto is very solitary and quiet by nature. He prefers to plan before acting, and uses his wits to solve a problem, rather than choosing to engage in combat.
He is resistant to the idea that there is any such thing as magic, and scoffs when Dirk or his friends suggest the possibility. When Rye appears in The Silver Door and utilises his magical items that the Fellan gave him, Sholto is initially skeptical of them and rationalises that they must be some sort of technological advancement. However, he seems to accept the possibility of magic by the end of the trilogy, and is not skeptical of the magic of the Fellan.
Sholto is afraid of heights, and has been since childhood. In The Silver Door, Rye begins to realise that Sholto has always had the feeling of not being good enough because of this, as he is unable to work on the Wall like Dirk and his father and working on the Wall is considered prestigious and a source of pride among the people of Weld.  
Abilities
Edit
As much as Sholto may have had the feeling of not being good enough due to his fear of heights, he is very intelligent, making a skimmer repellent in The Golden Door. It is also clearly stated in the Golden Door that all those of Southwall know that he's destined to become the Southwall healer after Tallus.
Relationships
Edit
Main article: Sholto's relationships
Relatives
Edit
Appearances
Edit
References
Edit
Ad blocker interference detected!
Wikia is a free-to-use site that makes money from advertising. We have a modified experience for viewers using ad blockers

Wikia is not accessible if you've made further modifications. Remove the custom ad blocker rule(s) and the page will load as expected.