For the town of the same name, see Shadowgate
Shadowgate
General information
Physical information
Chronological information
Shadowgate
is an area north of the town
Shadowgate
. The town has been named after the area. It can be reached by walking through the
Barrier Mountains
.
[1]
History
Some time during the reign of King Lucan, the Sister of the North was put in place in the area of Shadowgate.
Honora, the last of the emerald dragons, chose the mountains around Shadowgate as her hiding place when told to sleep by Doran the Dragonlover.[1]
Kirsten arrived in Shadowgate some time after fleeing from the town of the same name. Here she built a castle to help guard the Sister of the North and became its guardian. Her sister, Mariette, and her former lover, Bede, arrived at her castle one day seeking shelter, and were made into her prisoners.[1]
Shadowgate
Lief
,
Barda
, and
Jasmine
arrived at Shadowgate on the back of
Fortuna
.
[1]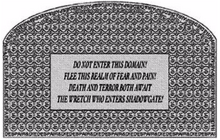 Trivia
References
See also