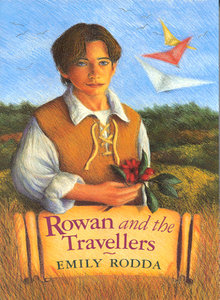 Rowan and the Travelers
General information
Publication
| | |
| --- | --- |
| Publisher | Scholastic Press |
Chronology
Rowan and the Travellers is a fantasy novel written by Emily Rodda. It is the second book in the Rowan of Rin series.
Book description
Edit
A mysterious danger threatens Rowan's village, Rin. But who is the enemy? And what is the strange spell that is putting all the townspeople to sleep?
The Travelers, a roaming people who are friends of Rin, might be able to help, but Rowan isn't sure he can trust them. Especially since they tell him that to find the answers to Rin's problems, Rowan must go to the legendary, noxious Pit of Unrin, from which no living thing has ever returned.
Characters
Edit
Ad blocker interference detected!
Wikia is a free-to-use site that makes money from advertising. We have a modified experience for viewers using ad blockers

Wikia is not accessible if you've made further modifications. Remove the custom ad blocker rule(s) and the page will load as expected.