Adin knew that he was the one who must fill the medallions in the belt.

Robin is in need of more information! Robin is lacking The whole article. There is nothing here. Look at the Characters section on the Manual of Style for a proper guideline.
Ah...my name is — Berry. Of Bushtown.

The following information is not considered canon.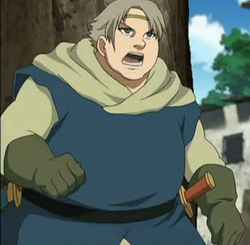 Robin
Physical description
Personal information
| | |
| --- | --- |
| Weapon of choice | Sword, Knife |
Chronological and political information
Robin is a pirate who appeared in the Deltora Quest anime.
Robin was found in the ruins of Where Waters Meet, along with Finn and Milne, carving their name into the walls of the town. Lief attacked them in a rage, forcing Barda and Dain to join as well. Barda nearly crushed him with a dresser, prompting the fat pirate to flee.
He later attacked the River Queen with the other pirates and appeared in the background of the pirate lair.
Physical appearance
Edit
Ad blocker interference detected!
Wikia is a free-to-use site that makes money from advertising. We have a modified experience for viewers using ad blockers

Wikia is not accessible if you've made further modifications. Remove the custom ad blocker rule(s) and the page will load as expected.