This article is about the steamboat itself. For the thirty-second episode of the anime under the same name, see The River Queen.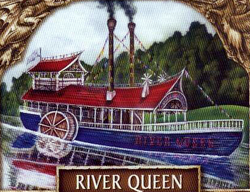 The River Queen is a steamboat that picks up and drops off passengers along the River Tor. The crew mainly consists of Polypans and humans.[1]
The Maze of the BeastEdit
After Jasmine split from Lief, Barda, and Dain, both groups arrived on the River Queen at different times on their trip to the cost. On their first night, the River Queen was attacked by pirates. During the attack, an Ol recognised the companions, and attacked Jasmine before the captain could kill it. Afterwards, Lief and Jasmine were rowed to shore.[1]
Before passengers come aboard the boat, they must agree to the following rules:
They must have the ability to protect themselves, as the captain is not their bodyguard.
No harassing other passengers.[1]
References
Edit
See also
Edit
Ad blocker interference detected!
Wikia is a free-to-use site that makes money from advertising. We have a modified experience for viewers using ad blockers

Wikia is not accessible if you've made further modifications. Remove the custom ad blocker rule(s) and the page will load as expected.