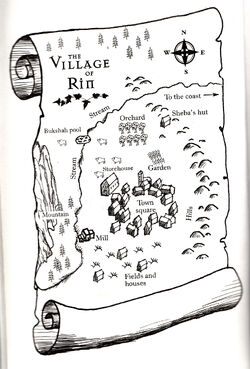 Rin
Physical information
Government
| | |
| --- | --- |
| Form of government | Elderdom |
Chronological information
Rin
is a village located on the east coast of the island of
Maris
. It is home to the descendants of the people of the
Valley of Gold
.
Settlement
Edit
The Cold Time
Edit
Rowan of Rin Edit
Rowan and the Travellers Edit
Rowan and the Keeper of the Crystal Edit
Rowan and the Zebak Edit
Rowan of the Bukshah Edit
Rowan's home village is five days' walk from the coast and the town of Maris, where the Maris people dwell.
References
Edit
Ad blocker interference detected!
Wikia is a free-to-use site that makes money from advertising. We have a modified experience for viewers using ad blockers

Wikia is not accessible if you've made further modifications. Remove the custom ad blocker rule(s) and the page will load as expected.