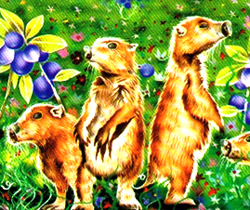 Pig Rat
General information
Chronological information
Pig Rats
are small weasel-like creatures that dwell within
Ruby territory
.
[1]
History
Secrets of Deltora
Pig Rats are plentiful weasel-like creatures that were encountered by Doran, and recorded in his field guide, Secrets of Deltora.[1]
Dragon's Nest
Lindal caught and cooked a fat Pig Rat the night she rescued Lief, Barda, and Jasmine from an Orchard Keeper. It was so good that even Jasmine, who disslikes meat, ate some.[2]
Habitat
Pig Rats dwell in the Painted Plains near Broome, within Ruby territory.[1]
Anatomy
Pig Rats look like small, furry, plump weasels with a light-brown fur and a pale underbelly.[1]
Behaviour
Pig Rats seem to be relatively social creatures and behave neutrally towards humans.[1]
Diet
Pig Rats are herbivorous, eating grass and lily roots.[1]
References