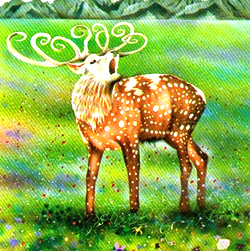 Painted Plain Deer
General information
Chronological information
Painted Plain Deer are animals native to the Painted Plain.
Secrets of Deltora Edit
Doran wrote about Painted Plain Deer in his Deltora traveller's guide, Secrets of Deltora.
Resembles a fallow deer, but with spots covering its entire body. Their fur are spotted tan and white, ranging from a brmight tan to a dark tan. Their antlers are white and grow in intricate, elegant spirals. According to Doran the Dragonlover, the deer are too big for one person to fully consume.
Behaviour
Edit
Probably moved in herds for protection.
Characteristics
Edit
Herbivorous; most likely fed on grass most of the time.
The Painted Plain in Ruby territory.
References
Edit
Ad blocker interference detected!
Wikia is a free-to-use site that makes money from advertising. We have a modified experience for viewers using ad blockers

Wikia is not accessible if you've made further modifications. Remove the custom ad blocker rule(s) and the page will load as expected.