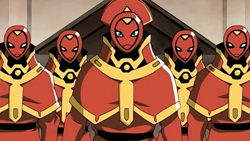 Noradz the Clean
クリーンチュルナイ!
Information
Episode guide
Noradz the Clean is the ninth episode of Deltora Quest.
Synopsis
Lief, Barda and Jasmine awaken in a mysterious city of Noradz where the inhabitants are meticulously clean. Filli frightens the people of Noradz and Lief and his friends are captured and must play a game of luck to determine if they live or die.
Plot
Lief, Barda and Jasmine wake up in a strange city called Noradz. Lief suddenly realises that his gloves, cloak and his sword are missing. Reece interrupts them, ordering the citizens of Noradz to spray Lief, Barda and Jasmine. Lief then asks Reece why he is spraying them to which Reece replies by saying that they were cleansing them. Reece then explains that in Noradz they clean the entire city to maintain cleanliness. Following this Reece shows Lief, Barda and Jasmine Noradz's way of greeting. Of course, the heros had no idea what this meant and so they just stood towards the nine Ra-Kacharz looking clueless. To this, Reece tells them they must greet them back with the same chant. Barda tells Lief that they should follow their rules for now. Jasmine isloates herself and makes it stone cold clear that she isn't going to greet them back. Lief kindly asked where they are told by Reece that they are in Noradz. Barda is suprised and exclaims, "So this isn't the City of the Rats?"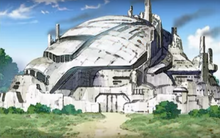 Character debuts
Characters
Villains
Trivia
The Japanese title translates to "Clean Noradzeer!" - where チュルナイ is translated as Noradzeer.
It is in the anime which we see Noradz for the first time as it was never seen in any cannon material.