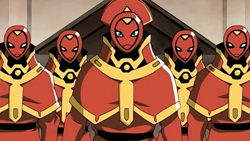 Noradz the Clean
クリーンチュルナイ!
Information
Episode guide
Noradz the Clean is the ninth episode of Deltora Quest.
Lief, Barda and Jasmine awaken in a mysterious city of Noradz where the inhabitants are meticulously clean. Filli frightens the people of Noradz and Lief and his friends are captured and must play a game of luck to determine if they live or die.
Lief, Barda and Jasmine wake up in a strange city called Noradz. Lief suddenly realises that his gloves, cloak and his sword are missing. Reece interrupts them, ordering the citizens of Noradz to spray Lief, Barda and Jasmine. Lief then asks Reece why he is spraying them to which Reece replies by saying that they were cleansing them. Reece then explains that in Noradz they clean the entire city to maintain cleanliness.
Character debuts
Edit
Characters
Edit
The Japanese title translates to "Clean Noradzeer!" - where チュルナイ is translated as Noradzeer.
Ad blocker interference detected!
Wikia is a free-to-use site that makes money from advertising. We have a modified experience for viewers using ad blockers

Wikia is not accessible if you've made further modifications. Remove the custom ad blocker rule(s) and the page will load as expected.