This article is about Nanion from D'Or. For Nanion, the leader of Fleet, see Nanion (The Three Doors), and for his son, see Nanion (child).
Adin knew that he was the one who must fill the medallions in the belt.

Nanion is in need of more information! Nanion is lacking information from Return to Del.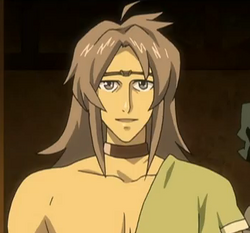 Nanion
Biographical information
| | |
| --- | --- |
| Age | Over 100 as a result of Thaegan's curse. |
Physical description
Personal information
| | |
| --- | --- |
| Love interest(s) | Ethena (wife) |
Chronological and political information
Nanion is the leader of the people of D'Or, a city that was founded by foreigners to Deltora. He is a descendant of the people of Fleet, a town on the island of Dorne, who fled their island a thousand years ago and settled in Deltora during the reign of Queen Adina.[1]
History
Nanion was cursed by Thaegan and turned into the sea monster Soldeen to guard the ruby. His wife was turned to stone and his people were transformed into various creatures residing in the Lake of Tears created by Thaegan. A hundred years would pass before Lief, Barda and Jasmine would lift Nanion's curse. Though he battles Lief, Soldeen regains his memories as Nanion and helps in getting the Ruby before Thaegan arrives. Upon Thaegan's death, the Lake dries up and both Nanion and D'Or are restored to their original forms.[1]
Return to Del
The Sister of the South
Nanion and Ethena were present at the wedding of Lief and Jasmine.
Physical appearance
Nanion has golden skin and a mane of long golden tawny hair. He is tall and his eyes are grey.[1][nb 1]
Personality
Nanion is kind and loved by his people. He tries to be helpful whenever possible.
Abilities
He is the leader of D'Or and clearly rules the city with passion. The people love him as their leader.
Relationships
Ethena
Nanion is married to Ethena, who helps lead the people of D'Or alongside her husband.
Lief
Jasmine
Barda
Manus
Relatives
Appearances
Deltora Quest
Deltora Quest 1
Deltora Quest 3
Trivia
Notes
↑ In a passage of Return to Del, Nanion was described as "the golden-maned man."
References
See also