Adin knew that he was the one who must fill the medallions in the belt.

Nanion is in need of more information! Nanion is lacking Everything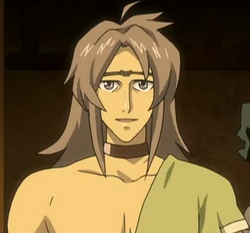 Nanion
Physical description
Relatives

Nanion (father)

Ethena (wife)
Chronological and political information
Nanion D'Or is the leader of the people of D'Or, a city that was founded by foreigners to Deltora. It was named after Nanion's family name. He was born in the town of Fleet on the island of Dorne, and is the son of Nanion of Fleet, from whom he has his name. He is married to Ethena, who helps lead the people of D'Or alongside her husband. He was cursed by Thaegan and turned into Soldeen, a demonic sea monster to guard the ruby. Resembling a mix of an eel, a catfish and a shark. With his wife turned to stone, Nanion's people were transformed into various creatures residing in the Lake of Tears created by Thaegan. Though he battles Lief, Soldeen regains his memories as Nanion and helps in getting the ruby before Thaegan arrives. Upon her death, the Lake dries up and both Nanion and D'or are restored to their original forms.
His weapon of choice is a long sword. Because he is a large man, he is able to ride Tom's horses.
Soldeen was the monster that inspired Josef to write and publish The Deltora Book of Monsters and is the first monster featured in the book.
Soldeen is also the very first guardian monster who is not killed although since there is some speculation that Thaegan may be the true guardian this assumption may or may not be true.