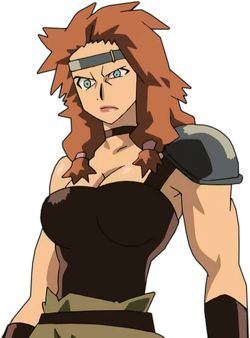 Nak
Biographical information
Physical description
Personal information
Chronological and political information
Voiced by

Lana Harwood (English dub)

Satsuki Yukino (雪野五月) (Japanese)
Nak
was a female pirate who patrolled the
River Tor
.
[1]
Nak and her crewmates attacked the town of Where Waters Meet when the town refused to accept the pirate's rule. She carved her name onto several of the buildings.[1]
The Maze of the BeastEdit
Nak attacked the River Queen on the night Lief, Barda, Jasmine, and Dain were aboard. She played around with Jasmine—who was in disguise as a fancy lady—and tore off her outfit. This caused an Ol who had been hunting the companions to reveal itself, and the pirate's escaped in the confusion.[1]
She and Finn later captured the companions when they arrived at the Maze of the Beast. After tossing them in with Milne (who has betrayed the pirates) she and Finn remained back at the pirate's cave while the rest went to trade Dain to Grey Guards. They witnessed the companion's escape from the Maze and charged at them, swords drawn. However, they moved too close to the blowhole, and it showered them with water, knocking the pirates into the blowhole to their deaths.[1]
Nak's role in the anime is largely the same as the books. However, she and Finn are not killed. Instead, the companions are able to overpower them and leave them tied up to face the wrath of their crewmates for letting prisoners escape.
Physical appearance
Edit
References
Edit
Ad blocker interference detected!
Wikia is a free-to-use site that makes money from advertising. We have a modified experience for viewers using ad blockers

Wikia is not accessible if you've made further modifications. Remove the custom ad blocker rule(s) and the page will load as expected.