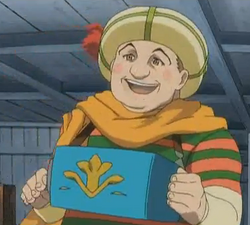 Lockie
Biographical information
| | |
| --- | --- |
| Alternative name(s) | Lockie the Stripe |
Physical description
Personal information
Chronological and political information
| | |
| --- | --- |
| Profession | Travelling entertainer |
| | |
| --- | --- |
| Position | Rower for the River Queen |
Lockie, also known as Lockie the Stripe is a travelling man who dwelled on the River Queen when Lief, Barda and Jasmine met him.[1]
History
The Maze of the Beast
Lockie served aboard the passenger ship, the River Queen, where he played a music box to entertain the passengers. He crawled into hiding when the pirates attacked the boat. After the attack he rowed Lief and Jasmine to the bank because the captain refused to ferry them any longer.[1]
Physical appearance
Lockie is a very plump man who wears a striped shirt.[1]
Personality
Lockie is kind and willing to entertain most of the passengers on the River Queen. He obeys the captain and has spent quite some time on the River Queen. After the pirate attack Lockie complained that he did not want to experience such a situation ever again. He clearly fears the pirates. According to the captain Lockie always complains but is not scared enough to really leave the River Queen.[1]
Abilities
Lockie plays a music box although this does not require tremendous skill. He knows how to row a boat.[1]
Trivia
References
↑ 1.0 1.1 1.2 1.3 1.4 Rodda, Emily. The Maze of the Beast. Scholastic Australia. 2001.
See also