Keep of Weld
General information
Physical information
Government
Chronological information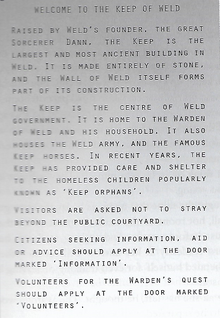 The Keep of Weld, also known simply as the Keep, is a building located in Westwall of Weld, Dorne. It is the oldest and largest building in Weld and was raised by Weld's founder, Eldannen.
Locations
Edit
Public courtyard
Edit
The Sorcerer's Tree
Edit
Planted by Eldannen, the Sorcerer's Tree is a large Bell tree found in the centre of the courtyard. Surrounded by a metal fence, the tree only bears a few dry, speckled fruit, due to its old age.
The Centre
Edit
Keep kitchens
Edit
Keep tower
Edit
References
Edit
Ad blocker interference detected!
Wikia is a free-to-use site that makes money from advertising. We have a modified experience for viewers using ad blockers

Wikia is not accessible if you've made further modifications. Remove the custom ad blocker rule(s) and the page will load as expected.