Hotnots & Sons
Physical information
Chronological information
Location on map
Hotnots & Sons is a small weapons shop in Del.
History
Shadows of the Master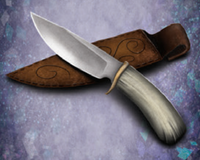 Jewel bought a fine bone-handled knife from Hotnots & Sons during the final test to find the finalists of the Rosalyn Trust competition. She bought the knife with the one gold she was supplied with for the test. The knife was valued at two gold coins.
Trivia
References