Hotnots & Sons
Physical information
Chronological information
Location on map
Hotnots & Sons is a small weapons shop in Del.
Shadows of the Master Edit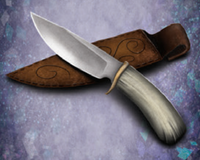 Jewel bought a fine bone-handled knife from Hotnots & Sons during the final test to find the finalists of the Rosalyn Trust competition. She bought the knife with the one gold she was supplied with for the test. The knife was valued at two gold coins.
References
Edit
Ad blocker interference detected!
Wikia is a free-to-use site that makes money from advertising. We have a modified experience for viewers using ad blockers

Wikia is not accessible if you've made further modifications. Remove the custom ad blocker rule(s) and the page will load as expected.