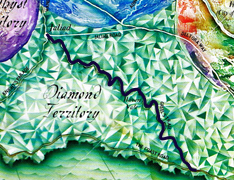 Greel's Trail
General information
Physical information
Chronological information
Greel's Trail is a road in Diamond territory named after the Jalis leader Greel. It runs southeast from Jaliad to join the Coast Road.[1]
History
Greel's Trail was named for Greel, the leader of the Jalis that originally supported Adin.[1]
Doran's travels
Many years after Greel's death, Doran wrote about Greel's Trail in Secrets of Deltora. He took Greel's Trail in order to reach Withick Mire more quickly.[1]
Description
Greel's Trail runs southeast from Jaliad  to the Coast Road near the border of Topaz territory. It is one of the longer and rougher roads in the territory, as it winds and climbs numerous hills, but is a more direct route to Topaz territory than taking the Knight's Parade. Greel's Trail allows travellers to see more of the Diamond territory's countryside and wildlife. In particular, it passed what used to be Haven Vale, a valley teeming with bird and other wildlife.[1]
References
Sea also