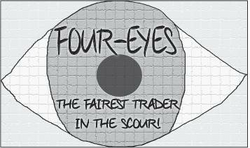 Four-Eyes' symbol on the side of his wagon
Four-Eyes
Biographical information
Physical description
Personal information
Chronological and political information
Four-Eyes was a trader who lived on the alternative future Dorne. He did not side with anyone, preferring to be a businessman above all, but helping the ones that paid the most. Four-Eyes had a mechanical steam-driven metal wagon which he drove around in.
The Silver Door Edit
Physical appearance
Edit
Four-Eyes had two eyes in the back of his head in addition to the ones in the front of his head.
Personality
Edit
Four-Eyes was a deceptive man. He worked with whoever paid the highest price.
Abilities
Edit
Relatives
Edit
Appearances
Edit
References
Edit
Ad blocker interference detected!
Wikia is a free-to-use site that makes money from advertising. We have a modified experience for viewers using ad blockers

Wikia is not accessible if you've made further modifications. Remove the custom ad blocker rule(s) and the page will load as expected.