Adin knew that he was the one who must fill the medallions in the belt.

Four-Eyes is in need of more information! Four-Eyes is lacking a detailed History with information from The Silver Door.
| | |
| --- | --- |
| | There is no denying that Deltora can be dangerous for the unwary or ill-informed! |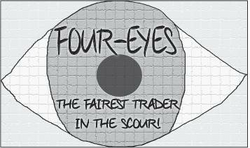 Four-Eyes' symbol on the side of his wagon
Four-Eyes
Biographical information
Physical description
Personal information
Chronological and political information
Four-Eyes was a trader who lived on the alternative future Dorne. He did not side with anyone, preferring to be a businessman above all, but helping the ones that paid the most. Four-Eyes had a mechanical steam-driven metal wagon which he drove around in.
History
The Silver Door
Physical appearance
Four-Eyes had two eyes in the back of his head in addition to the ones in the front of his head.
Personality
Four-Eyes was a deceptive man. He worked with whoever paid the highest price.
Abilities
Appearances
The Three Doors
References
See also