Fortress of Nerra
General information
| | |
| --- | --- |
| Position | Home of the Chieftan and his family |
Physical information
Government
| | |
| --- | --- |
| Form of government | Chieftainship |
Chronological information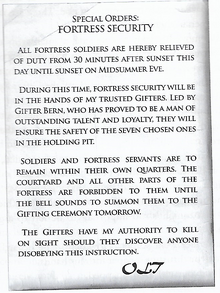 The Fortress of Nerra was the home of the Chieftain of Dorne and its family. From the fortress the Chieftain ruled over Dorne and kept order. The fortress was a large stone structure which stands in the harbour city of Nerra on the island of Dorne. It faced the harbour and the waters known as the Sea of Serpents that surround Dorne.
The Golden Door Edit
References
Edit
Ad blocker interference detected!
Wikia is a free-to-use site that makes money from advertising. We have a modified experience for viewers using ad blockers

Wikia is not accessible if you've made further modifications. Remove the custom ad blocker rule(s) and the page will load as expected.