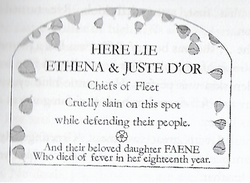 Ethena and Juste D'Or
Biographical information
Physical description
| | |
| --- | --- |
| Gender | Female and male, respectively |
Personal information
Chronological and political information
Ethena and Juste D'Or were the parents of Faene D'Or who died fighting Gifters during the first Midsummer Eve.
History
Ethena and Juste D'Or held the positions of the chiefs of Fleet until they were sacrificed in the first Gifting, seven years before the events in The Golden Door. Their gravestone lies in a garden in Fleet.[1]
The Golden Door
Physical appearance
Ethena and Juste were likely very tall, a trait typical of the people of Fleet, as well as their descendants in the city of D'Or.[1][2]
Personality
Relatives
Appearances
The Three Doors
Trivia
References
See also