Adin knew that he was the one who must fill the medallions in the belt.

End Wood is in need of more information! End Wood is lacking information about Dangers.
End Wood or Last Wood
Physical information
Chronological information
Location on map
End Wood
or
Last Wood
is the third and last of the
Forests of Silence
. It lies fully within
Ruby territory
. This wood was considered by Doran the Dragonlover to be the least dangerous and most pleasurable to visit.
[1]
Secrets of Deltora Edit
Doran the Dragonlover wrote about End Wood and its inhabitants in his book Secrets of Deltora.[1]
Dragon's Nest Edit
During Lief's quest to Dragon's Nest, he, Barda, and Jasmine split off from their company of guards to confuse an assassin. The companions travelled through End Wood and spent the night in the trees, where they heard the sounds of the guards being butchered by Rolf.[2]
The following day, Jasmine realised they were being followed by someone, who they believed to be their assassin. The companions attempted to loose them by crossing a stream, but ended up falling victim to an Orchard Keeper. Lief ate some of the skin of the sleeper tree fruit, which allowed him to fend off the Orchard Keeper with Filli and Kree until Lindal of Broome—the suspected assassin—drove the bird off. After reviving Barda and Jasmine, Lindal escorted them out of End Wood.[2]
Dangers of End Wood
Edit
Orchard Keepers
Edit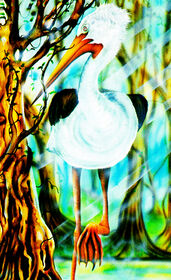 Land Limpets
Edit
Sleeper Tree fruits
Edit
References
Edit
See also
Edit
Ad blocker interference detected!
Wikia is a free-to-use site that makes money from advertising. We have a modified experience for viewers using ad blockers

Wikia is not accessible if you've made further modifications. Remove the custom ad blocker rule(s) and the page will load as expected.