Dragon Lizard
General information
| | |
| --- | --- |
| Diet | Insects, birds, small snakes |
| | |
| --- | --- |
| Attributes | Spiked back, claws, |
Chronological information
Dragon Lizards
are large gold quadrupedal lizards that live within the
Os-Mine Hills
. Their eggs were once highly prized as '
dragons'
eggs' and sold as trinkets to people visiting
Del
.
[1]
History
Secrets of Deltora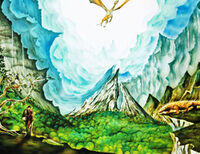 Doran encountered several Dragon Lizards during his travels through the Os-Mine Hills and recorded them in his field guide, Secrets of Deltora.[1]
Habitat
Dragon Lizards inhabit the Os-Mine Hills in Topaz territory. They are often found among rocks of foothills and in valley caves at higher levels.[1]
Anatomy
Gold in colour and as large as a calf, Dragon Lizards are sometimes mistaken for dragon young. Covered in scales and spikes on its head and back, the lizard has sharp teeth and four feet, ending in 3 claws.[1]
Behaviour
Dragon Lizards are harmless when left alone. However, they will bite and scratch humans if threatened. When it is time to lay, the Dragon Lizard will build a nest of pebbles, laying eggs no larger than duck eggs.[1]
Diet
Dragon Lizards eat only insects, birds and small snakes.[1] Butter Moths are relished by the Lizards.
References