Welcome to Deltora Quest Wiki!
An online encyclopedia dedicated to Deltora Quest, The Three Doors, Star of Deltora and Rowan of Rin written by best-selling author Emily Rodda, that anyone can edit!

Deltora Quest Wiki also includes reference to Rodda's other works and information about the stories and the series that in any way tie into, or have anything to do with Deltora Quest, The Three Doors and Star of Deltora.
Started in March 2008, the wiki currently has 748 articles!
Helping out
Welcome to Deltora Quest Wiki! Feel free to join us and contribute. Everyone is free to create a new page or edit an existing one.
Questions about wiki editing should be directed toward the administrators.


We have two projects in process:
We are happy to have you here, but remember to log in or join before you edit so we know who you are!
Quote of the Month
"Blood is blood, no matter how thinly it is spread over the ages."
Did you know...
...that Deltora Quest has sold more than 15 million copies worldwide?
...that Deltora Quest has a sequel series called The Three Doors?
...that Deltora Quest has won 11 awards?
Poll
What is your favorite tribe?
Affiliates
Featured Article-Shadows of the Master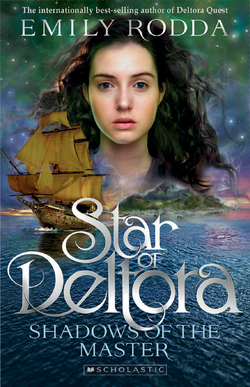 The first installment in Emily Rodda's new upcoming Star of Deltora series, Shadows of the Master follows a girl named Britta of Del. She wants nothing less than to be the new Apprentice Trader of the Rosalyn fleet. Family and friends and even the terrible secret of her parentage will not stop her. But how can she succeed when her true identity must surely be guessed by Trader Mab, who knew her father, and her crew of the Star of Deltora? Relying on no more than her wits and the kind acts of friends she makes along the way, Britta is drawn closer to her terrible destiny.
The first book in the Star of Deltora series is set to be released on August 1 2015 - this year. (read more...)
News
EmilyRodda.com, Emily Rodda's official website, has gotten a major overhaul, and gotten a new shiny look. Check it out for yourself here.

Read more >

The time has finally come! Emily Rodda's new book, Shadows of the Master, book number one in the Star of Deltora series, is released! Set in the world of Deltora, it tells the tale of Britta who undergoes a journey to become the new apprentice trader of the Rosalyn fleet!

We can't wait to read it. Let us know what you think of the book in Star of Deltora forums!

Please refrain from posting spoilers below.

Read more >


The first book of Emily Rodda's new Star of Deltora series is set to be released, as you probably all know, this August. But we have discovered the titles of all four books, as well as their release dates as well, or rather their release months.

Book 1 is of course Shadows of the Master and is set to be released on August 1 2015.

Book 2 is titled Two Moons and is set to be released November 2015.

Book 3 is titled The Towers of Illica and is set to be rele…

Read more >