Home
Talk

34
567pages on
this wiki

Welcome to Deltora Quest Wiki!
An online encyclopedia dedicated to Deltora Quest and The Three Doors, by best-selling author Emily Rodda, that anyone can edit!

Deltora Quest Wiki also includes reference to Rodda's other works and information about the stories and the series that in any way tie into, or have anything to do with Deltora Quest and The Three Doors.
Started in March 2008, the wiki currently has 567 articles!
What's new
Welcome to Deltora Quest Wiki!
Remember to read the Manual of Style so you know how to edit!
Project The Three Doors is a go! Read the guidelines and have fun!
We are happy to have you here, but remember to log in or join before you edit so we know who you are!
Whats happening on the wiki:
Currently, we are writing articles to a better standard and correcting grammar, tense and layout.
When editing, try to remember grammar, punctuation and style of writing.
Quote of the Month
"Listen to your inner voice,
And you will make the wisest choice."
Did you know...
...that Deltora Quest has sold more than 15 million copies worldwide?

...that Deltora Quest has a sequel series called The Three Doors?

...that Deltora Quest has won 11 awards?
Poll
What is your favorite tribe?
Affiliates
Featured Article-Josef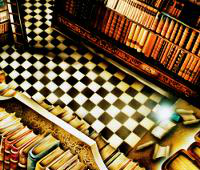 Josef was the former librarian in the palace of Del, who served under King Alton and later King Lief. Josef was very wise and knowledgeable. He studied the Deltora Annals page by page, and could bring up specific documents for any problem brought to him. He was very protective of the royal family he served, and knew the value of keeping secrets.
When Alton's chief advisor Prandine, who was secretly a spy under the Shadow Lord, wished to destroy the Annals Josef faked his own death and destruction of the Annals and fled the palace.
As a refugee Josef met a young boy named Ranesh, who had recently escaped from pirates after they raided his hometown of Where Waters Meet. In exchange for food, writing and reading lessons Ranesh told Josef of the Glus and Guardian. The two quickly formed a friendship, with Ranesh going out and stealing food for Josef when they couldn't find any. Josef eventually came to love Ranesh like a son. (read more...)
News
Hi all! We're exited to announce Lief has been selected as one of the characters to go up against Talion in Wikia's Shadow of Mordor Fantasy Face-Off.

Shadow of Mordor is an upcoming videogame based around Lord of the Rings. Wikia has decided to pick well-known fantasy characters to pit against characters from the game in an epic battle! What's awesome is that the community gets to vote for who they think will win!

So head over here to vote for Lie…

Read more >