Welcome to Deltora Quest Wiki!
An online encyclopedia dedicated to Deltora Quest and The Three Doors, by best-selling author Emily Rodda, that anyone can edit!

Deltora Quest Wiki also includes reference to Rodda's other works and information about the stories and the series that in any way tie into, or have anything to do with Deltora Quest and The Three Doors.
Started in March 2008, the wiki currently has 611 articles!
What's new
Welcome to Deltora Quest Wiki!
Remember to read the Manual of Style so you know how to edit correctly!
Project The Three Doors is a go! Read the guidelines and have fun!
We are happy to have you here, but remember to log in or join before you edit so we know who you are!
Whats happening on the wiki:
Currently, we are writing articles to a better standard and correcting grammar, tense and layout.
When editing, try to remember grammar, punctuation and style of writing.
Quote of the Month
"Listen to your inner voice,
And you will make the wisest choice."
Did you know...
...that Deltora Quest has sold more than 15 million copies worldwide?
...that Deltora Quest has a sequel series called The Three Doors?
...that Deltora Quest has won 11 awards?
Poll
What is your favorite tribe?
Affiliates
Featured Article-Shadows of the Master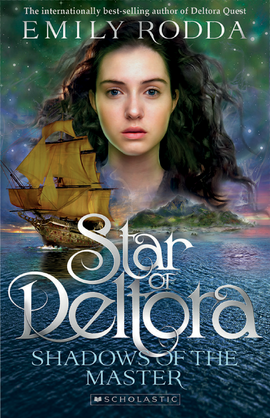 The first installment in Emily Rodda's new upcoming Star of Deltora series, Shadows of the Master follows a woman named Britta of Del. She wants nothing less than to be the new Apprentice Trader of the Rosalyn fleet. Family and friends and even the terrible secret of her parentage will not stop her. But how can she succeed when her true identity must surely be guessed by Trader Mab, who knew her father, and her crew of the Star of Deltora? Relying on no more than her wits and the kind acts of friends she makes along the way, Britta is drawn closer to her terrible destiny.
The first book in the Star of Deltora series is set to be released in August of 2015 - this year. (read more...)
News
 I have found more news of STAR OF DELTORA, specifically about the first book in the series, SHADOWS OF THE MASTER. The book is set to be released in August of 2016. Yes, this year! :D I found this page http://scholastic.co.nz/trade/pdf/quicklinks/NZ%20August%20Trade%20Parade%20LR.pdf which includes an official blurb for the book, which goes:

Britta of Del wants nothing less than to be the new Apprentice Trader of the Rosalyn fleet. Family and frie…

Read more >