Welcome to Deltora Quest Wiki!
An online encyclopedia dedicated to Deltora Quest, The Three Doors, Star of Deltora and Rowan of Rin written by best-selling author Emily Rodda, that anyone can edit!

Deltora Quest Wiki also includes reference to Rodda's other works and information about the stories and the series that in any way tie into, or have anything to do with Deltora Quest, The Three Doors, Star of Deltora and Rowan of Rin.
Started in March 2008, the wiki currently has 875 pages!
Helping out
Welcome to Deltora Quest Wiki! Feel free to join us and contribute. Everyone is free to create a new page or edit an existing one.
Questions about wiki editing should be directed toward the administrators.


We have two projects in process:
We are happy to have you here, but remember to log in or join before you edit so we know who you are!
Quote of the Month
"In ancient days, Deltora was divided into seven tribes. The tribes fought on their borders but otherwise stayed in their own place. Each had a gem from deep within the earth, a talisman with special powers."
—The first line of The Belt of Deltora read by Jarred in The Forests of Silence
Did you know...
...that Deltora Quest has sold more than 15 million copies worldwide?
...that Deltora Quest has a sequel series called The Three Doors?
...that Deltora Quest has won 11 awards?
Poll
What is your favorite tribe?
Affiliates
Featured Article-The Hungry Isle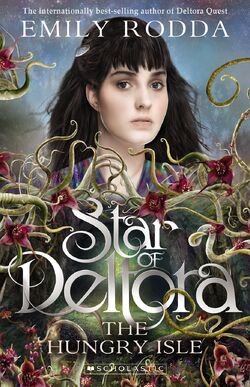 The fourth and final installment in Emily Rodda's Star of Deltora series, The Hungry Isle follows the girl Britta, as she and the crew of the Star of Deltora escapes the island of Illica, but home and safety are still very far away and the shadows that haunt the ship are deepening. Strange currents, seen and unseen, are sweeping Britta and her friends into peril.
The magic Staff of Tier has sensed them, the Hungry Isle is on the prowl, and Britta's dreams of winning the Rosalyn Apprentice contest will soon be swamped in a tidal wave of terror.
Lives hang in the balance and shock follows shock as Britta's quest to escape her past reaches its tumultuous climax.
The fourth and last chapter in Star of Deltora was released on on September 1, 2016. (read more...)
News
I am about 15 days late with this announcement, but for anyone who didn't know already, the fourth and final book in Emily Rodda's new series Star of Deltora -The Hungry Isle - was released on September 1, 2016. Go run to the book stores and get yourself your copies! :) I am excited to read my own copy once it arrives all the way over from Australia, from Marc McBride.

Read more >


Today I discovered this higher resolution version of the cover for The Hungry Isle, in the September 2016 Trade Parade catalogue from Scholastic, released at Issu.com, seemingly before Scholastic did it. I don't believe they have it up even now. To see the catalogue go to this link, https://issuu.com/scholastic_australia/docs/september_trade_parade

As you will notice, the cover art seems a bit brighter and fader in color in the catalogue, but for …

Read more >


A very low resolution cover for The Hungry Isle has appeared at http://trove.nla.gov.au/work/194788829?selectedversion=NBD55067344 Time to head to the Deep Web and find a better version yes? Anyone want to help?

I just can't believe this series is almost over! It seemed a bit short, didn't it? Amazing, but short. Like meeting your favorite friends once again, even if the old characters did not appear in the books...

Update: A high res cover has bee…

Read more >