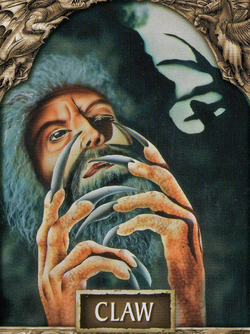 Mikal
Biographical information
Physical description
Personal information
Chronological and political information
| | |
| --- | --- |
| Profession | Potter (formerly) |
Position

Owner of Del's largest pottery (formerly)
Leader of Shadowlands Resistance (formerly)
Mikal
of Del, later known as
Claw
,
was the leader of the 
Resistance
within the
Shadowlands
.
[1]
History
Early life
Mikal owned the largest pottery in Del. He sheltered and fed Josef and Ranesh in his cellar when they came to the city. Soon after the invasion of the Shadow Lord, Mikal and his family were captured and his pottery was raided, and they were taken to the Shadowlands.
While the rest of his family's whereabouts are unknown, Mikal was sent to the Factory to be experimented on. Before the experiment was completed, he escaped inside a cave through a hallow under a rock. The experiments gave him talon-like claws, and he changed his name to Claw to match it.
He formed a new Resistance group by saving people wandering the Shadowlands, including Gers and Brianne of Lees.[1]
The Shadowlands
Claw and his men captured Lief, Barda, and Jasmine shortly after they entered the Shadowlands. After hearing their story, Claw agreed to join forces with them to free the captured Deltorans. He and Gers snuck into the Shadow Arena and freed the slaves from their shackles. This allowed Lief and Emlis to play the Pirran Pipe long enough for the Pirrans to rescue everyone.[1]
The Sister of the South
Claw attended the wedding of Lief and Jasmine, alongside his fellow resistance members.[2]
Physical appearance
Claw has long grey hair and a shaggy grey beard. Due to being experimented on by the Shadow Lord, he has talons at the end of his fingers.[1] His skin is white.
Personality
Abilities
After the experiments, Claw obtained enlarged nails. Those nails serve him as claws. He can inflict deep wounds with his claws.
Relatives
Appearances
Deltora Quest
Deltora Quest 2
Deltora Quest 3
Trivia
References
See also