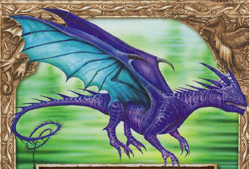 Amethyst dragon
General information
| | |
| --- | --- |
| Diet | Fish of the Silver Sea, River Tor eels, seaweed |
| | |
| --- | --- |
| Status | Critically endangered |
Attributes

Wise, truthful, philosophical, responsible
Enjoys intelligent discussion and poetry.
The longest-lived and largest of all Deltoran dragons.
Chronological information
Amethyst dragon are a species of dragon native to Amethyst territory.
Amethyst dragons are covered in deep purple scales and have pale blue underbellies to match the sky when in flight. On average, they live the longest and grow larger than any other dragon species.
Characteristics
Edit
Amethysts dragons are described as being wise, philosophical, and truthful, befitting their tribal gemstone.
Amethyst dragons feed near-exclusively on sea life and seaweed, making them one of the few omnivorous dragon species.
As their name implies, Amethyst dragons inhabit the Amethyst territory along Deltora's western coast. They are often spotted near the coast or the River Tor.
References
Edit
Ad blocker interference detected!
Wikia is a free-to-use site that makes money from advertising. We have a modified experience for viewers using ad blockers

Wikia is not accessible if you've made further modifications. Remove the custom ad blocker rule(s) and the page will load as expected.